The Eddie Jones Press Conference, and what it means for Schools Rugby
"This is a line in the sand today in terms of how we take the game forward again. For me, it is almost bringing it back to its spiritual home, and to have the Ella brothers here with Eddie is very special," said an impassioned Hamish McLennan, Chairman of Rugby Australia.
The spiritual home referred to by McLennan is Matraville Sports High School, an inspired venue for the much-anticipated 'Eddie Jones Press Conference' as RA socials promoted it.
"After seventeen years, the world's most revered rugby coach has come home," was how Nick McCardle introduced Jones. The Stan Sports rugby commentator was MC for the press conference.
Andy Marinos, Rugby Australia CEO bullishly stated: "This is Australian Rugby's 'Golden Decade' to come."
Jones was flanked on the podium by Marinos and McLennan, with Gary Ella, a Yuin and Bidjigal man who grew up in La Perouse, providing a Welcome to Country.
Jones held court with the attending sports media for 45 minutes, talking up Australia's past glories while presenting a clear vision for the future.
He left no ambiguity, repeatedly stating that the target is to win the next World Cup.
He also touched on indigenous reconciliation, the growth and development of women's rugby which he now oversees, the Giteau Rule, bringing the fans back to the game, and reinvigorating the grassroots. He even added a few friendly slurs at Alan Jones, Clive Woodward and Peter V'landy.
The result has been a barrage of articles on the front and back pages of most newspapers and TV news programs in the country. The most positive and enjoyable reporting of rugby in Australia for some time.
Jones started with reconciliation.
"One of the things that has really impressed me in Australian rugby is their endeavour to reconcile. We still need to do more for Aboriginal kids. We want more Aboriginal kids playing rugby. They have done well in other sports, we want more playing [rugby]. We have seen what the Ellas have done for their people, and we want to do more, and I want to be a part of it," he said.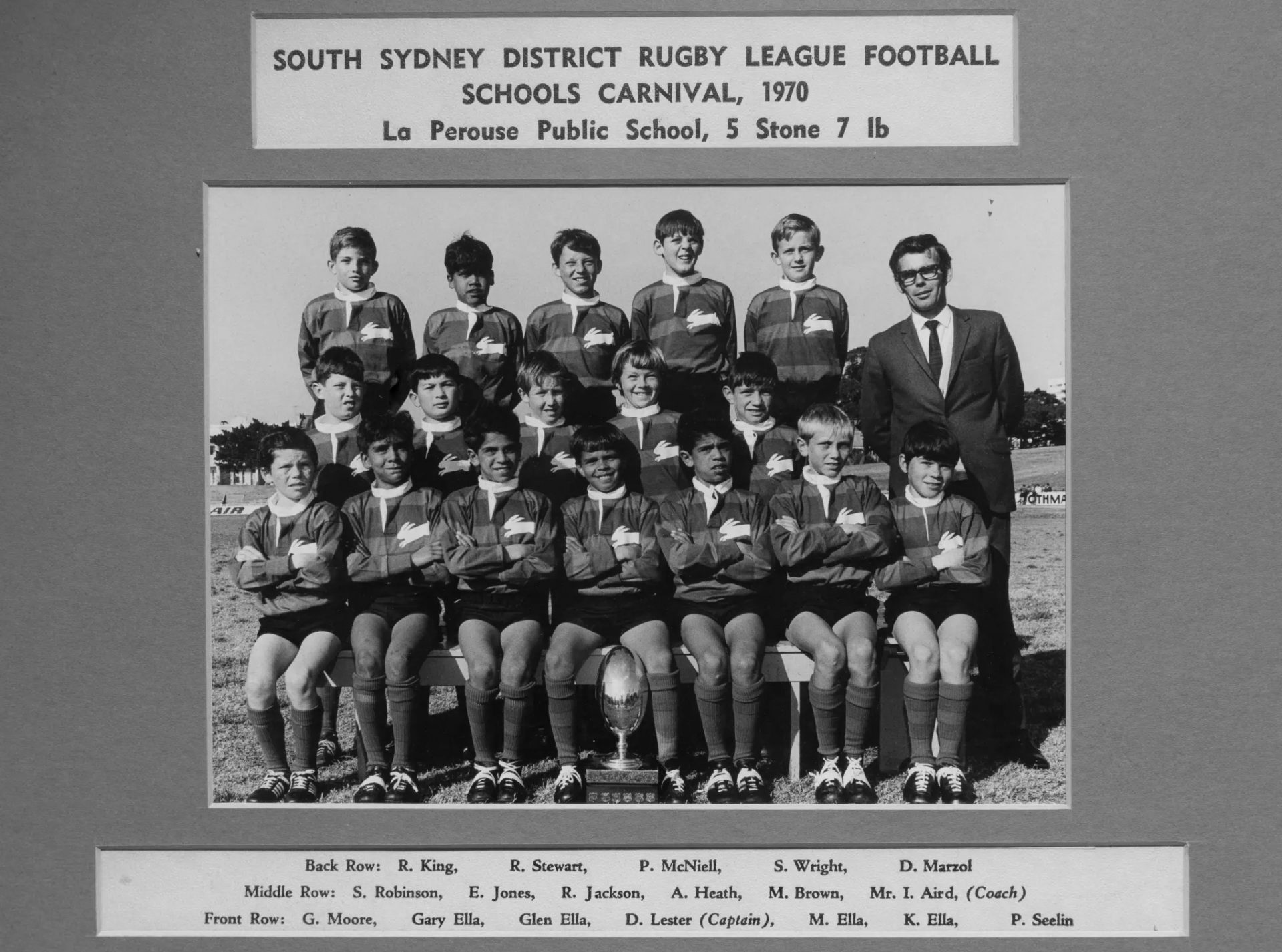 Eddie Jones (L: 2nd in the 2nd row) playing with the South Sydney Rabbitohs Junior League team, with the Ella brothers and friends. Most of this team went on to play at Matraville High and kept playing both league and rugby.
Matraville High was Eddie Jones' stomping ground as a kid. He even returned to the school briefly as a mathematics teacher. It is where he learnt his craft. It is where he lived and breathed 'running rugby'. It is where he fell in love with the game. It is where the Eddie Jones story began. It was home.
The location and the moment were not lost on Jones. He displayed a noticeable tremble in his voice early on, looking towards Glen, Mark and Gary Ella in the back of the room, mates since kindergarten. "We left here in 1977 and to come back here now is pretty special. It's a good feeling. It's quite emotional," he said, moving his gaze away from the camera.
In the 1970s and 1980s, Matraville High was one of the most feared school rugby teams in the country and was becoming known as a "great rugby nursery" for both union and league.
Geoff Mould was the Matraville coach at the time. Originally from Wagga Wagga his family moved to Newcastle when he was eight. He was an intelligent, driven and educated art teacher who had received a Teacher's Scholarship to attend Sydney University where he earned his Diploma of Education and Masters of Arts.
He was also an Australian All-Star baseballer.
In the early '60s he was working with CHS schools as an administrator and in 1968 he was invited to join Matriville as its art teacher, with the proviso that he develop a rugby program. League and union were interchangeable at the school, with most boys playing in the school rugby team every Wednesday and backing up with their local league club team on the weekend. In the summer they all played cricket.
"It was a pretty rough place back then," Mould said. With most of the students coming from league families, Mould spoke of how he needed to explain some of the finer differences to the parents who came to watch the games on Wednesday afternoon. "I told them that we don't stand on the sideline and abuse the opposition," he said, with a wry smile.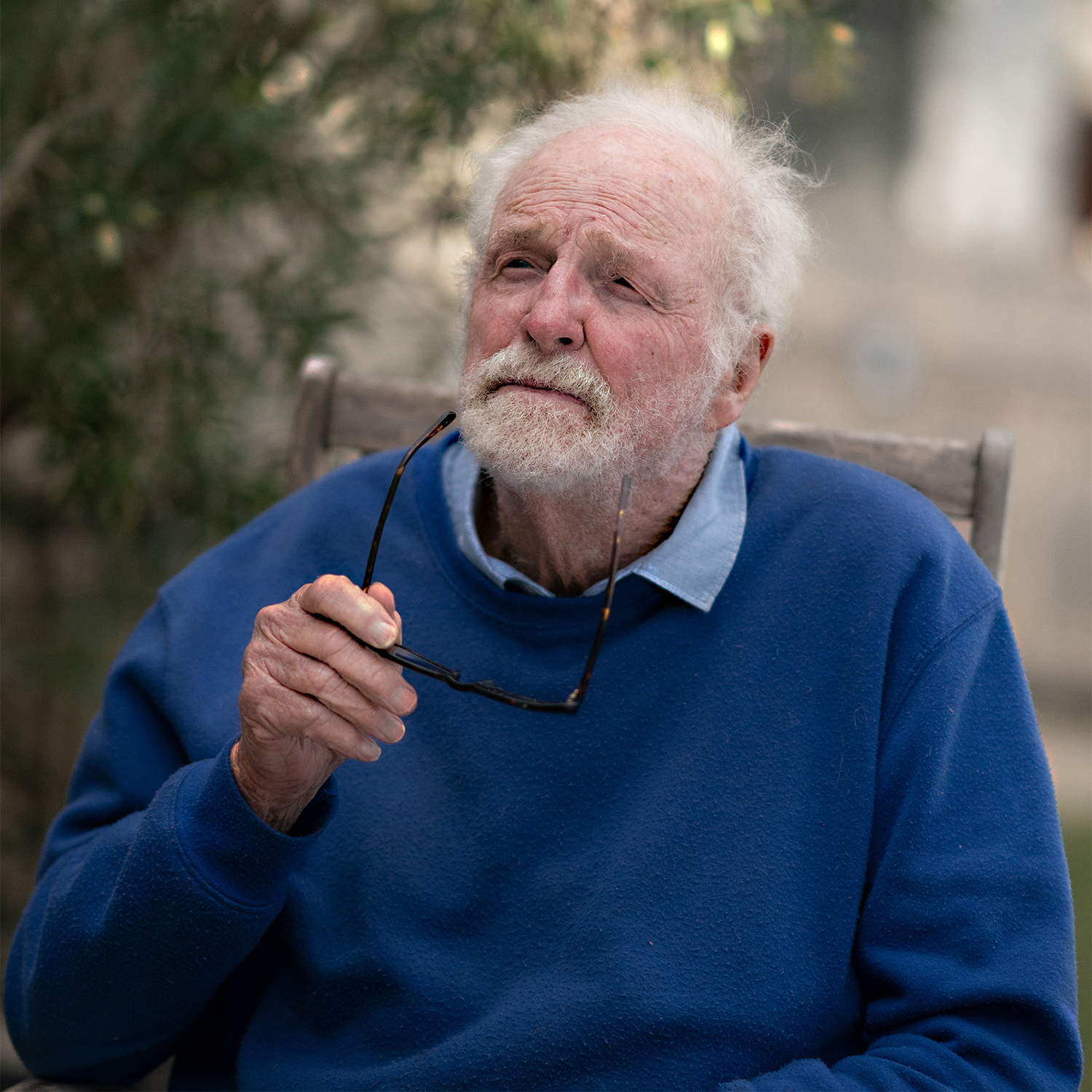 Geoff Mould, Head Coach of Matraville High School and the 1977 Australian Schoolboys Rugby Team (Aug 4 2022)
In need of some expert advice, Mould cajoled Cyril Towers, a Randwick local who was known as one of the greatest Australian rugby players of the pre-World War II era, to come and watch the team train one day. He took some convincing, but once he saw then, from that day onwards he never missed a Matraville match. Towers did not get involved in the hands-on training, but he was attentive to the boys and was invaluable to Mould to debate the finer elements of his rugby strategy.
Mould is emphatic that it was the 1928 Waratahs, featuring Towers and another Randwick player Wally Meagher, who created the running rugby style that Mould was trying to replicate and expand on.
Four years after starting at the school, with a team featuring a new sensation by the name of Russell Fairfax, Matraville High came from nowhere to win the Waratah Shield, the highest junior rugby honour in NSW and Canberra.
They repeated the achievement in 1976, 1977 and 1983.
Mould's Matraville alumni include not just the Ella brothers, but Russell Fairfax, Warwick Melrose, Darrell 'Charlie' Lester and David Knox, each Australian Schoolboys, as well as Lloyd Walker, Grant Mould and Eddie Jones, each who could have held their own in the '77 Schoolboy team. During this same period, 18 Matraville High players also went on to play with NRL teams.
"One of the things I am most proud of," said Mould when talking of the Waratah Shield campaigns, "is that not one independent or private school ever beat Matraville High."
Mould was appointed head coach of the 1977 Australian Schoolboys team, taking his Matraville 'running rugby' to the rugby heartlands of the United Kingdom. He was supported by Brother Bob Wallace from St Edmund's College, Canberra and Jim Lucey from Brisbane State High School.
The results were the stuff of legend, with news reports plastered across the British national dailies, the press competing for superlatives to describe this new style of fast in-hand rugby, combined with exceptional individual skills. The team went home undefeated with a staggering 555/97 for and against points record, averaging seven tries per match.
Ten of Mould's 1977 Australian Schoolboys went on to play for the Wallabies, Gary, Glen and Mark Ella, Tony Melrose, Michael O'Connor, Michael Hawker, Chris Roche, Tony D'Arcy, Shane Nightingale and Dominic Vaughan.
Melrose, O'Connor and teammate Wally Lewis each wrote their own stories, making an indelible impact on league.
"This is one of the greatest teams of any kind, not just rugby teams, which ever left these shores," said Alan Jones recently.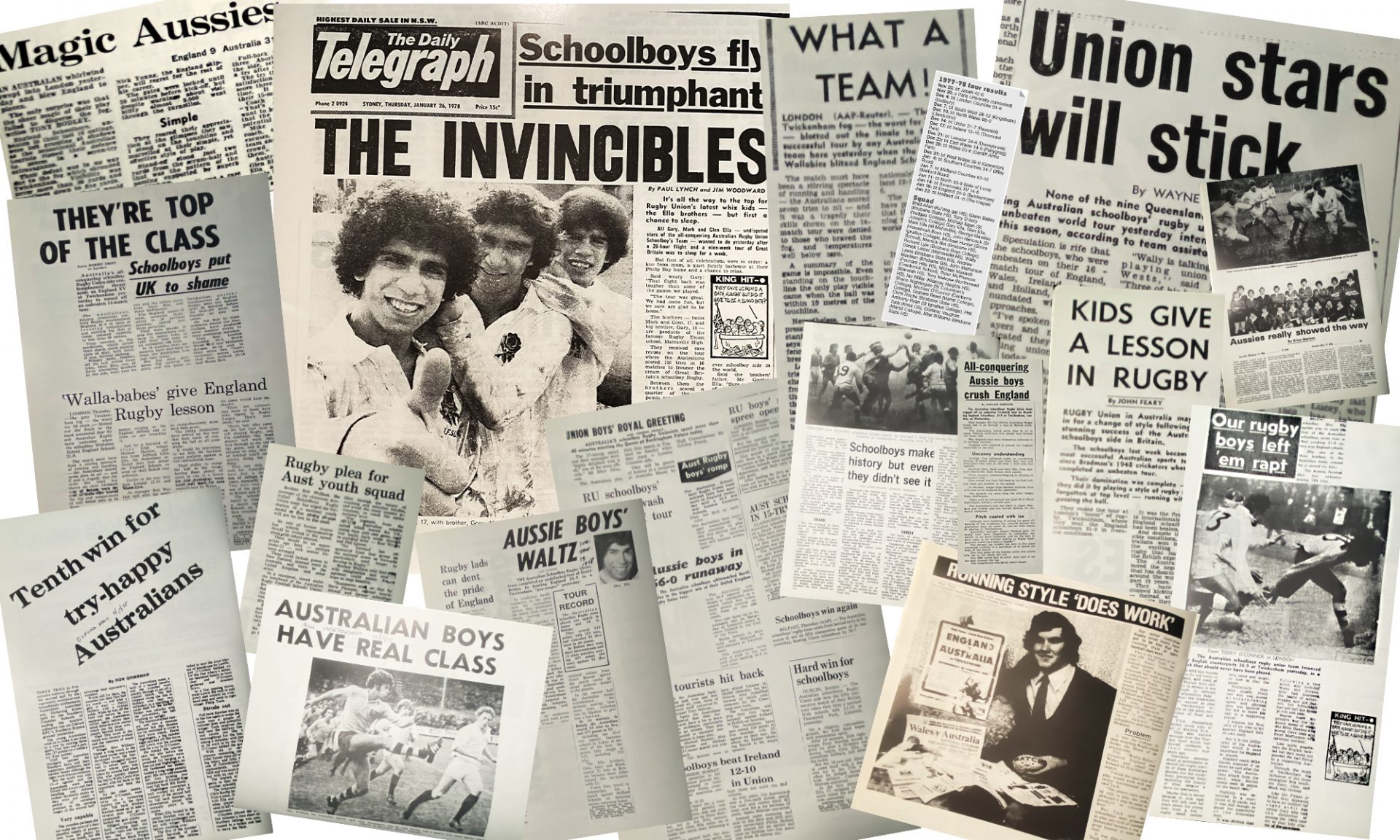 Eddie Jones spoke of this period and its impact on Australian rugby.
"Australian rugby has gone through tough periods before, this is not unusual.
"If you just look back at when the Ellas came through, in 1977 they played for Matraville High, then in 1977/78 they played for the Australian Schoolboys. They went and won everything in the UK, and that set off a movement in Australian rugby.
"At some time around that period, Australia got beaten by Tonga at [the Sydney] Cricket Ground.
"Then the Ellas came through and they changed the way the game was played. They changed that spirit of Australian rugby, which was a bit of a mismatch between NSW and Queensland.
"They changed it back to an aggressive running style of rugby, and they changed the fortunes of Australian rugby that culminated in the Grand Slam in 1984. Then they ended up winning the World Cup in 1991 and then the 1999 World Cup. We want to start that period again.
"We have plenty of talented players here [Australia], but talent doesn't win World Cups. What wins World Cups, and wins the hearts of people, are teams that play with the spirit the Ellas had, being aggressive and playing with a certain panache.
"That doesn't mean you run with the ball all the time, because kicking can be as artistic as running the ball, but we want to play with a certain panache, we want to play tough, so at the end of those tight games, you win those tight games by one or two points, that's the traditional Australian Digger spirit. We want that in the team. That is the opportunity for this group of players this year. If we play like that, people will want to come and watch rugby again," said Jones.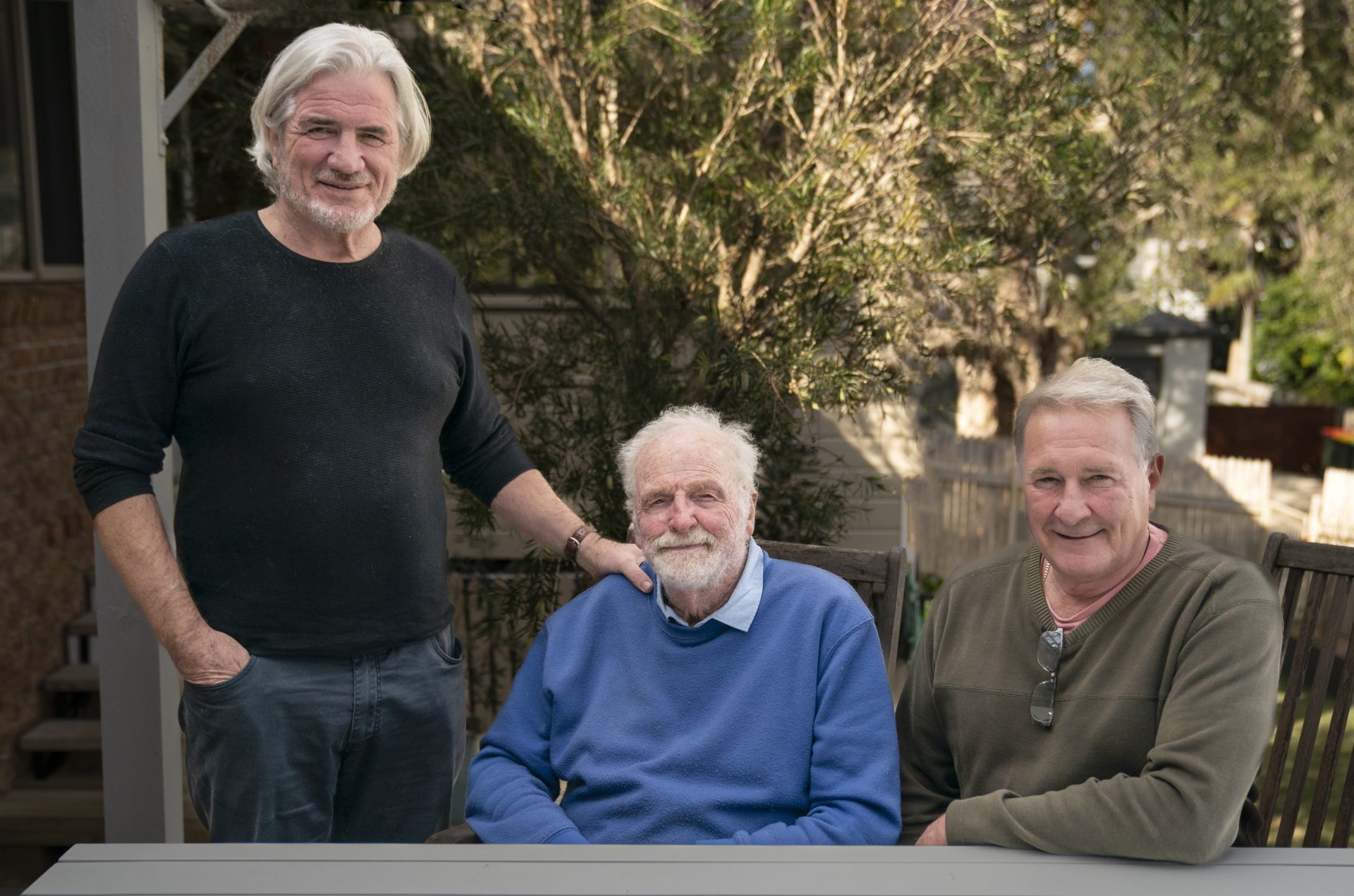 Geoff Mould with Chris Roche (left) and Tony Melrose (right) at Sawtel on the NSW North Coast (Aug 4 2022).
When you speak with members of the 1977 Australian Schoolboys team, there is a reverence for the role Geoff Mould played in their success. In their minds, there is no question that it was Mould's playbook.
It was not some organic sprinkle dusk unique to this disparate group of young athletes. They would say this is disrespectful to Mould, and to them.
Mould was an original thinker. He was highly competitive, outspoken, passionate, and flamboyant, reciting Shakespeare in the locker room. He was also highly emotional, especially when talking about the game of rugby.
Some could say his style of coaching was dictatorial, and yes, he did have a dogmatic vision of how this game of rugby should be played, and how every member of his team would play it. This was non-negotiable.
There are glaring similarities with Eddie Jones.
******
When asked on the phone for his thoughts on Eddie's appointment and the press conference, Mould was full of praise and humility.
"You could not understand how delighted I was to listen to Eddie talk of the early days at Matraville and especially how he sees the game moving forward.
"And to hear the big cheese of Rugby Australia paying such respect to Matraville. This was marvellous.
"Eddie now has the enormous opportunity to resurrect the game here. It is now for him to bring the truth again. We want to hear spectators at the stadiums or watching games on TV saying 'I loved the rugby today'. This is imperative.
"Eddie was a great little player. It has always been my opinion that Eddie should have been in the '77 touring team. I thought he would have walked into it, but I was not one of the selectors2," he said.
"I wish him every success and look forward to catching up with him for a beer sometime soon, to get down to the details."
Geoff Mould was not in the press conference room this day, but his spirit and his legacy sure was.  He was instead sitting in his home in Sawtell, five hours north of Sydney listening in on his mobile and watching news highlights on the TV, offering a few fist pumps, shedding a private tear or two, overwhelmed with pride of what he and his young chargers achieved back in the day, with the knowledge that one of his boys, Eddie Jones, the runt of the litter, maybe, who grew up living and breathing running rugby, will now lead Australia—the Wallabies and the Wallaroos—back to the future.
End
Article and photos by Anthony Edgar
Note 1. Marcia Ella-Duncan, OAM, younger sister of Glen, Mark and Gary, was the first Indigenous Australian to play netball for Australia, while still attending Matraville High. She represented in the Australian Diamonds in 1986 and 1987.
Note 2: Geoff Mould's son Grant was one of the stars of the Matravile team, also on the CHS 1 and the NSW 2 team, winners of the 1977 National Schools Championships (defeating NSW1 6-3). To ensure there could not be a question of conflict of interests, Geoff Mould pulled himself out of the selection process for the 1977 Australian Schoolboys team. Matraville had nine players in the NSW teams: 4 in NSW 1 and 5 in NSW 2.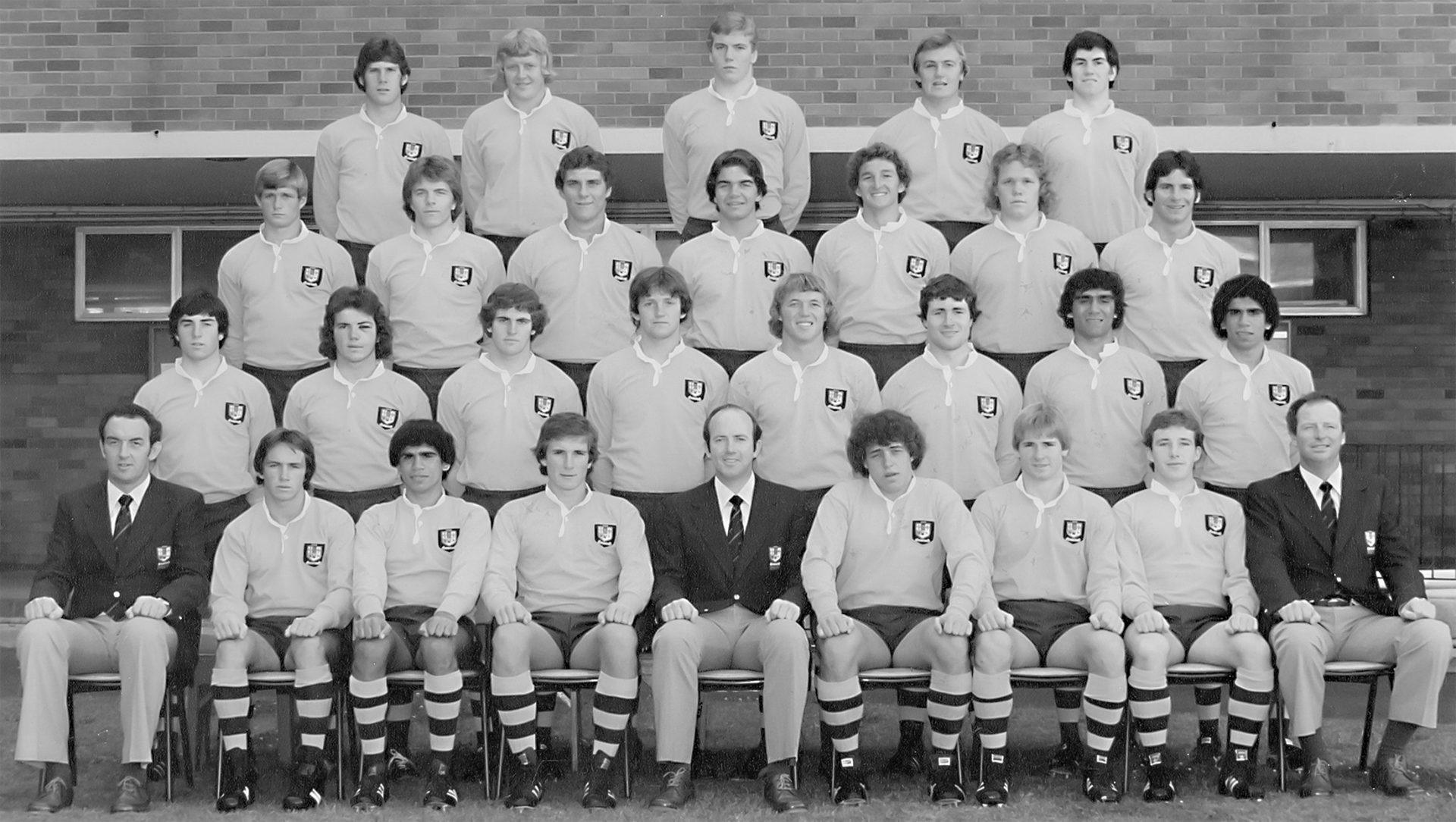 1977 Australian Schoolboys Team
Back Row: Max Williams (QLD), Shane Nightingale (QLD), Michael Maxwell (NSW), Warick Melrose (NSW), Phillip Tuck (NSW)
Third Row: Michael Hawker (NSW), Ian Miller (NSW), George Gavalas (NSW), Richard Leslie (QLD), Glenn Bailey (QLD), Tony D'Arcy (QLD), Andrew Maclean (QLD)
Second Row: Michael Egan (NSW), Chis Roche (QLD), Michael O'Connor (ACT), Graham Reed (ACT), Wally Lewis (QLD), Brad Allan (NSW), Gary Ella (NSW), Glen Ella (NSW)
Front Row: Mr Jim Lucey (Assistant Manager), Dominic Vaughan (NSW), Mark Ella (NSW), Tony Melrose (NSW, Captain), Mr Bob Wallace (Manager), Peter McPherson (NSW), Merrick ILETT (QLD), Tony Ryan (NSW) Mr Geoff Mould (Coach, Assistant Manager)
(Absent: John Hancock (NSW), D. Lester (NSW), J Matheson (NSW)