Updated on March 27

Community rugby games and training across Australia have been postponed until the start of May due to the spread of COVID-19
The decision by Rugby Australia was made as clubs would not be able to guarantee the ability to keep numbers at games or training below 500 to align with the Federal Government's ban on mass gatherings above that number.
However most of Australia's schools competitions do not fall under RA's jurisdiction and are free to make their own decision on whether training and matches will be occur.
Here are the latest updates on what school rugby competitions around the country are planning in reaction to the coronavirus .
ASRU
Australian Schools Championship
ASRU has decided to cancel the Championship for the first time in the competitions 45 year history. The carnival was scheduled to run from July 4 to July 9.
ASRU President Mr Cleary said,
"It was not a decision we made lightly however we stand in solidarity with the global rugby family to protect the well being of all players, coaches & officials, as well as the wider public at this time."
"Taking the appropriate measures that mitigate the spread of COVID-19 Coronavirus in line with government and public health agency responses and advice is paramount,"
International Matches
Like the Australian Schools Championship, all ASRU run international fixtures have been cancelled in 2020.
Tonga was scheduled to tour Queensland in September and play matches against the Australian Schools Barbarians and a Queensland Presidents XV.
Rugby Australia has not yet made a decision on whether the Australian Schools and U18s side will play New Zealand Schools. This is still scheduled to occur this September in Brisbane.
AAGPS (NSW)
No updates at time of publish however AAGPS schools will not longer play Combined Associated Schools (CAS) schools in their trial matches following an announcement by CAS this week.
Two weeks ago, the Head of the River was held without spectators.
Round One of the AAGPS 3rd XV competition is still scheduled to start on the May 23 while the 1st/2nd XV competitions are set for June 13.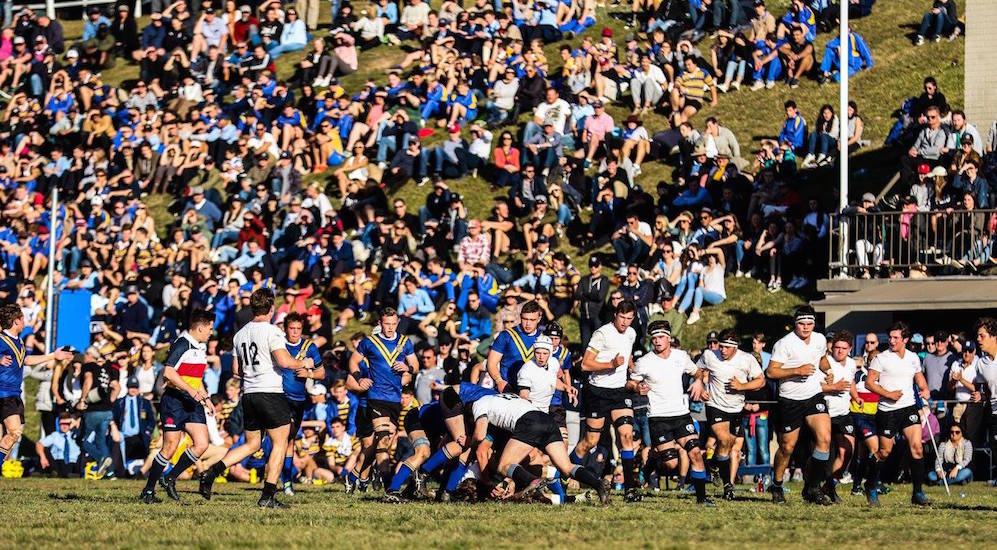 ACT
Schools play in the ACTJRU Competition which falls under Rugby Australia's postponement and cancellation policy.
On Monday 16 ACTRU said, "…we will look at a revised date to the commencement of our competition."
"We will set new trial dates for our Rep program and distribute them via the Clubs/Schools, our web site and social media platforms."
"We will endeavour to communicate information as soon as it comes to hand re the ACTJRU 2020 season."
ASRU understands all the major schools in Canberra are following the recommended safety protocols implemented meaning there will be no training or games until a review in first week of May. These schools have also cancelled all pre-season games and tours.
AIC (Brisbane)
All sports have cancelled training and matches for all of Term 2.
The seven game season was originally scheduled to begin on May 2 but may be revived in Term 3 outside its traditional time slot pending meetings with Headmasters and Head of Sport. However, there is no guarantee of this though.
If a total cancellation ensues it would be the first time no rugby has been played in an AIC calendar year.
Ballymore Cup (Queensland)
This QRU-run all-schools event was scheduled to take place on the Gold Coast during the Easter Holidays. It attracts schools from all over the state but it will no longer go ahead as a result of COVID-19.
Most other Queensland schools competitions outside of Brisbane fall under Rugby Australia's Community Rugby directions. As a result these games will not go ahead either until the directives from RA change.
CAS (NSW)
The Combined Associated Schools (CAS) has resolved to cancel fixtures and inter-school games until at least May 31st.
CAS member schools will not be participating in trial fixtures against other associations until after that time as well. As yet, training has not been cancelled.
CHS (NSW)
A media release from Mark Scott, Secretary – NSW Department of Education on Sunday March 15 outlined a 'phased social distancing strategy' that was implemented from Monday 16 March 2020.
As part of this strategy 'Sports and Initiatives events will be temporarily ceased until further notice'.
All NSWCHSSA activities will be 'temporarily ceased until further notice'.
GPS (Queensland)
The GPS rugby season does not kick-off until Term 3 whoever training for some teams has been underway for months and trials were due to start soon. GPS matches attract large crowds with a match in 2018 having an attendance of nearly 10,000.
Below is an exert from a statement by The Great Public Schools Association of Queensland:
"The GPS is working on the guidelines of the State and Federal governments, along with the recommendation of all State and National Sporting Organisations. As such GPS will follow the directive of Rugby Australia."
"All formal and informal pre-season training and competitions for Football, Tennis, Basketball and Rugby Union, have been cancelled. This directive will came into effect at midnight Tuesday 17 March, effective until further
notice. This decision is consistent with the relevant state and national sporting organisations current
directive."
"Should there be any change to this advice the GPS will communicate this information through direct communication with Headmasters and Principals."
ISA (NSW)
ISA NSW have advised that all events set down for the remainder of Term 1 be cancelled. This does not include rugby, however a new set of guidelines will be sent out early in Term 2 which will provide direction for rugby games and representative trials through that term and beyond.
PSA (WA)
The Public Schools Association rugby season was scheduled to start in early May however this is likely to be postponed or cancelled. No decsion has been made publically about winter sport but "Summer" competitions were cut short last week. The PSA released this statement:
"In light of the rapidly changing landscape in relation to COVID-19 and in the interest of the health and safety of the wider community, the PSA committee has unanimously endorsed the cancellation of current PSA and JPSSA summer sporting competitions, effective immediately.
…Every effort was made to explore opportunities that would have allowed students the opportunity to complete their seasons, however, this was not possible. Supporting our students and their families to navigate these difficult and uncertain times is our priority, as individual schools and as the PSA."
South Australian Schools Rugby Union (SA)
This competition is run by South Australian Rugby Union (SARU) and therefore falls under RAs directive to cancel training and playing until May 6.
This competition traditionally runs over Terms Two and Three.
TAS (Brisbane)
All events and matches are cancelled until further notice. The rugby season was scheduled to start on May 2.
VRSU (Victoria)
The VSRU facilitates an 11 school competion that includes eight elite Associated Public Schools (similar to AAGPS or GPS) schools whom do not offer rugby in an offical capacity.
All schools have cancelled both training and playing which will resume at earliest on least May 30.
Despite this there is not plans yet to cancel the 2020 season. The VSRU has internally formed five possible formats that outline how the competition may possibly be resumed. The most viable option will be chosen when schools allow their students to return.
VSRU says, "Schools may be asked to play fixtures well into third term beyond our current scheduled Grand Final date of 8 August."
DO YOU HAVE ANY FURTHER UPDATES ON COMPETITIONS AROUND THE COUNTRY? SEND US A MESSAGE VIA FACEBOOK OR INSTAGRAM.
_____
Please note ASRU is only responsible for their competitions & matches. Updates on other competitions may have occurred since the time of publishing on March 18.