On Saturday Eddie Jones will have hundreds of millions of eyes on him but his beginnings were far more humble.
His Japanese mother enrolled him in La Perouse Public School in Sydney's south-east. It was here where he shared desks with future Australian Schools and Wallabies greats, Glen and Mark Ella.
Glen said in 2016, "We were about five years old at an aboriginal state school with a lot of white kids and one small, Asian-looking kid. Eddie was a little bit quieter than most, a little bit shy, but he was definitely one of the boys."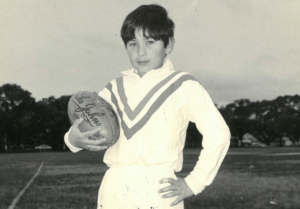 Matraville Days
Despite only playing rugby league throughout their primary years their move to Matraville High School (now Matraville Sports High School) proved pivotal.
The football talent of Jones and the Ella brothers was noticed by PE teacher Geoff Mould who transformed the league-loving public school into a rugby gold mine despite a huge resistance of parents in 1968.
Bret Harris in Ella, Ella, Ella said, "… the transition to rugby union is 1968 was met with tremendous resistance from parent and pupils alike. The parents regarded rugby union as a 'rah-rah' game played by rich boys…"
Mould who went on to coach the Australian Schools side describes the style of play he impressed upon Jones and his Matraville teammates, "We developed a running game at Matraville and it became traditional throughout the school. Everyone from the seniors right down to the little kids played this way. They could see a consistency in the pattern and I am sure this is why Matraville teams have been so successful. The running game is hard to play. It requires tremendous discipline and skill."
Famously they, with Jones in the side, went on to defeat the eventual 1976 GPS premiers St Joseph's College, Hunters Hill in a pre-season fixture 15 – 9. Some believe that Matraville side is the greatest Australian schools side ever – public or private.
Future Wallabies coach and Jones mentor, Bob Dwyer was at the game, "While Joey's played strong, quick rugby full of initiative and aggression the little Matraville guys would just tackle and tackle until their opponents coughed up possession."
Over the years this style has been echoed in many of Jones' sides, and was emulated again in the World Cup semi-final against New Zealand on Saturday night.
Under Mould, Edward (or Eddie as he became known) stood out at hooker and earned himself a NSW II jumper in 1977. This was alongside four other Matraville players including Glen and Mark (Gary made the NSW I side).
In front of a home Sydney crowd the side studded with future stars finished ahead of Wally Lewis' Queensland side and Michael O'Connor's ACT team at the ASRU National Championships. In the final they defeated the NSW I side, 6 – 3 and became the first New South Wales side to win the Caltex Shield (now 'Jika' Travers Shield).
Despite a strong performance at the Championships he missed selection in the Australian Schools side that included five of his Matraville mates. Mike Coleman notes in his book, Eddie Jones: Rugby Maverick that the disappointment temporarily ended his love of rugby.
Life After School
After school he continued his rugby at the Randwick Rugby Club alongside the Ella brothers, and future Wallabies coaches Ewen McKenzie and Michael Cheika. At the same time, he was also studying to become a PE/Geography teacher at Sydney University.
His first teaching job was at the new International Grammar School in 1984, then located just two kilometeres from Coogee Oval.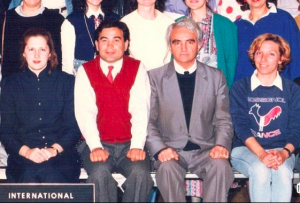 The schools vision was to create a type of education where students not only do well in the classroom, but also through a second language. To Eddie, a multilingual man of Japanese descent, it was more than a job it was a calling. It's believed that the unorthodox approach to teaching was part of the influence on his, 'think outside the box' coaching style.
Jones said in Colemans book, "The big thing for me is having vision. If you have a vision, something exciting, people generally will follow. Most people want to be party of something special. And there was something very special at IGS. To be able to create a school out of nothing, with no finances and no proper facilities… that was amazing. Reg (principal Reg St Leon) created that vision and it's something I will remember the rest of my life."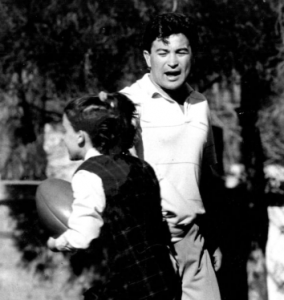 According to Rita Fin who became Principal at IGS Eddies work ethic was exceptional, "He wasn't the sort of teacher to walk out the door at 3 o'clock. He'd have some after-school clubs and take the kids to kick a ball around in the park. Somehow, he managed a full-time teaching gig as well as all the rugby stuff. He was a bit like a machine."
As the school was new and he was so passionate about making it work much of his work in the early stages was done without pay.
Despite playing 150 caps for Randwick and making caps for NSW and the Australian Barbarians he hung up his boots in 1992 upon realising his Wallabies ambitions would never be fulfilled.
He briefly helped start up another international school in Ho Chi Minh City before turning his focus to coaching for 'The Galloping Greens'.
Leaving the classroom
While still balancing teaching and coaching his wife Hiroko whom he met teaching at IGS said – get paid or quit coaching.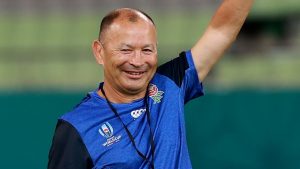 In a reuniting of sorts he did just that, pairing up with Glen Ella to coach professionally at a Japanese university.
The rest is history really. He's gone on be the head coach of three countries at three World Cups and while yet to hold the Webb-Ellis Trophy aloft in that role this could all change on Saturday evening. Interestingly, he has welcomed Canberra Raiders coach & 1984/5 ASRU Australian Schools Captain and player Ricky Stuart into the English to help claim the cup.
Eddie still holds on to his days of teaching PE in a humble Sydney school fondly and frequently talks of how its helped his coaching.
Jones has always been exceptionally talented but his story from the humblest of beginnings is a fantastic reminder of how a hard work can get one to the top. It is also a true anecdote about one of Australia's many great teachers and how their hard work helps this country prosper.