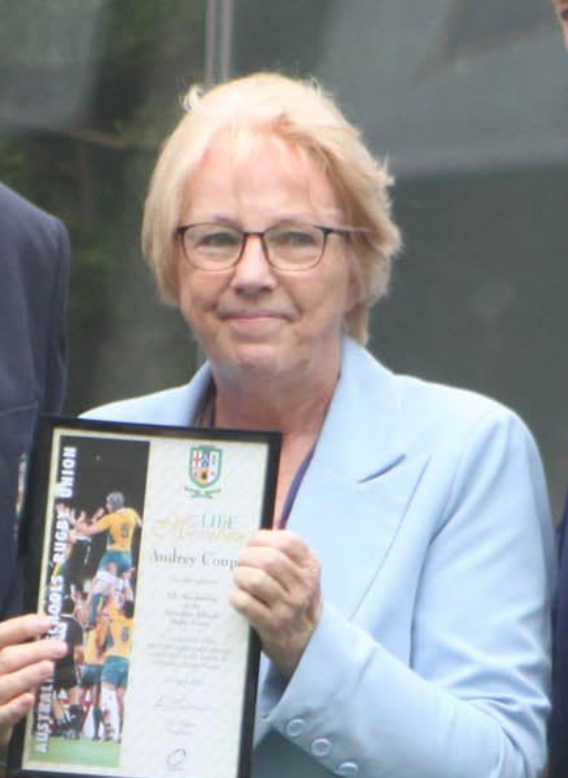 Awarded Life Member 2020
Audrey's dedicated service to the Union commenced 1992 when the new President of the ASRU Br Bob Wallace was Principal of Waverley College, Sydney and Audrey was his Personal Assistant. She quickly volunteered to assist the President with the administration of the Union and has continued her service into 2020. Her generous donation of time and her professional administration skill has been given voluntarily, generously and with such good cheer that she is known and revered across the country and indeed internationally as well. Often the Executive Committee would discover much later even at her own expense and carried out late at night. 
At various stages Audrey accepted a variety of titles in her overall support of any task that needed completion for the benefit on the Union and thus the committee and players. In the period when the Union had salaried Executive Officers, Audrey was the Administration Secretary and continued to give her services to them as well as the Office Bearers. Mr Bernie Carberry and Mr Andrew Elliott have the highest regard for the outstanding service Audrey gave the Union during their tenures as Executive Officers. Just about every meeting, tour and Championship held since 1992 has run smoothly through Audrey's front of office handling of enquiries and tasks and behind the scenes quiet achieving of all that was necessary. Daily results, points tables, dinners and travel arrangements could not have been completed without her meticulous attention to detail. Minutes of meetings were expertly taken, formed and distributed.
One always knew Audrey was in the vicinity when one heard all and sundry being referred to as 'Darlin' and all were put at ease. Audrey's cheerful capacity to handle multiple school's rugby matters is well known. Given this, Audrey has never been afraid of offering advice or perhaps correction, of course, invariably, this was warranted. The slight change in her northern Irish cadence would alert you to what was coming.
Audrey has served several generations of ASRU people and has always been respected by them –with a great memory for people, names and events. The Annual luncheons, which are the principal fundraisers for ASRU, would not have been successful without her volunteer work. 
As Peter Fitzsimmons noted in his Sydney Morning Herald column on 16th May 2020:
"AUDREY
Mrs Audrey Coupe. This lady from Waverley College Junior School has been the mainstay volunteer of the Australian Schools Rugby Union for over three decades, booking venues, taking minutes, making travel arrangements, writing letters, sorting points tables … the lot. Upon announcing her retirement she has just been made a life member. Well done, oh good and faithful servant of the game."